Atomic Clown Sunday November 24 2019 at 5:00 PM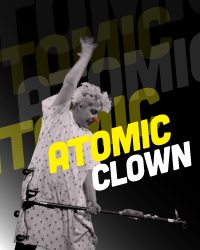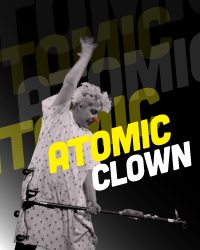 You've selected
Sunday November 24 2019 at 5:00 PM
Change Date
×
Night Sky Productions, Debra Mosk & Clown Conservatory present a limited-engagement sneak preview of Sara Moore's ATOMIC CLOWN. San Francisco's award-winning, renowned poet clown Sara Moore has created a "human cartoon fantasia" based on her recently published memoir of the same name: ATOMIC CLOWN. Through hyper-physical comedy, quick-witted repartee and some wild musical numbers brought on by bouts of enthusiastic sleep-walking, Moore tells the horrible-hilarious story of her recent journey through the death of her Dad, the breakup of her marriage & surviving breast cancer by finding the humor in the humanity. As depicted in her memoir, Moore chose to embrace & outright celebrate her shattered heart by doing her cancer treatments in the guise of different overblown characters while careening furiously from her therapist to her best bro-pal's advice while also running the Clown Conservatory in San Francisco, a training program for tomorrow's Mr. Beans & Lucille Balls. Miraculously, she saved herself from despair by believing in the mantra: "today's tragedy is tomorrow's comedy!" In this case, today & tomorrow were the same day! This 70-minute juggernaut is directed by Sean Owens – (Bay Area Critics' Circle Award-winner & Killing My Lobster veteran); choreographed by Rory Davis (illustrious Baloney and Peaches Christ choreographer). In addition to star and playwright Sara Moore, other comic performers include: Colin Johnson (Awesome Theatre); Fernando Gambaroni (NY off-broadway veteran) and Texas Holly (Circus Center/New Pickle Circus) and a very special '80s TV guest star as her wacky video-chat therapist. (Shhhh! It's a secret, you'll have to wait to see.) Colin Johnson designed the dynamic musical soundscape - a mashup of classic rock and roll favorites & lilting classical overtures. This production is a sneak preview for Bay Area audiences only with plans to tour to LA and then back to SF for a longer run at a yet unspecified date. Atomic Clown is a part of PlayGround's Potrero Stage Presenting Program.
Venue
Potrero Stage
1695 18th Street
San Francisco CA 94107
This is a general admission performance - seating is on a first come, first serve basis, unless the patron has selected "preferred seating", in which case seats will be reserved under the patron's name and held until the start of the performance.
Seating generally begins 15 minutes prior to start of performance.