Quantum Dragon Theatre / An Invitation Out Sunday December 22 2019 at 2:00 PM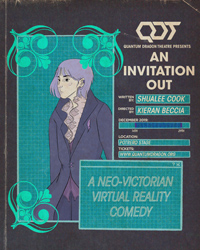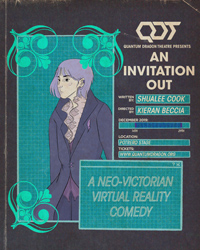 You've selected
Sunday December 22 2019 at 2:00 PM
Change Date
×
Quantum Dragon Theatre, the San Francisco Bay Area's premiere science-fiction/fantasy theatre company, continues its ambitious third season with the west coast premiere of Shualee Cook's science-fiction comedy of manners,
An Invitation Out
, directed by Kieran Beccia. The production runs December 14-29, 2019 at Potrero Stage. "Nothing makes a person so vain as thinking they truly know someone." Like most successful young men in the somewhat distant future, Wridget has lived his entire life completely online, designing high-end custom avatars and throwing lavish parties in a Neo-Victorian world of his own devising. But when a mysterious Outdweller logs on to one of his virtual soirees, Wridget finds himself pulled between two realities, each with its own perils and promises. The nine-person cast features actors old and new from around the greater SF Bay Area. Among them are Bay Area stage mainstay Don Wood (Shotgun Players, Mugwumpin, Anton's Well), and returning QDT favorites Emily Dwyer (Fahrenheit 451), James Aaron Oh (Fahrenheit 451), and Caitlin Evenson (The Do's and Don'ts of Time Travel). Will Livingston, Regina Leon, Caroline Portante, Alex Chernow, and Isabel Langen round out the ensemble cast.
Venue
Potrero Stage
1695 18th Street
San Francisco CA 94107
This is a general admission performance - seating is on a first come, first serve basis, unless the patron has selected "preferred seating", in which case seats will be reserved under the patron's name and held until the start of the performance.
Seating generally begins 15 minutes prior to start of performance.