Same Boat Theater Collective Presents COMING HOME Saturday February 27 2021 at 5:30 AM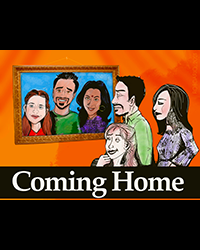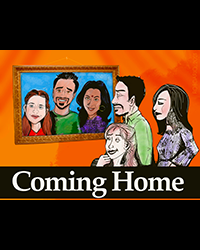 You've selected
Saturday February 27 2021 at 5:30 AM
Change Date
×
Same Boat Theater Collective presents "Coming Home", an independent international collaboration between Director Piyush Kumar and Writer Paul Heller with technical direction from Shubhra Prakash. The play was developed through workshops with the cast – Preeti Agarwal Mehta, Tarosh Rao, and Roshni Datta. "Coming Home" is the first of three versions of this story to be created using the same built-from-scratch-methods of this home-grown company. The play will be broadcast in Hindi and English. "Coming Home" examines women's freedom and choices in India's patriarchal system. Two years ago Guddu abandoned his family, leaving his sister, Isha and Amrita, his mother, in the lurch. When he returns with bizarre stories and extravagant demands, he threatens what he perceives as their delicate world. But Amrita and Isha have built more than a business; they are not the people Guddu left behind. The play uses one family to look at today's international extremist behavior. It asks the big question: how do we come back together to live with one another after violence and chaos? Can we welcome the other into our home?
Venue
Live Stream
via Zoom
Berkeley CA 00000
Performance Notes
Same Boat Theater Collective Presents COMING HOME (Hinglish) 5:30am PST / 8:30am EST
This is an online streaming performance. One reservation = one Zoom link good for up to two devices. Personalized Zoom links will generally be sent out the day of the event to the primary email associated with your account. For questions, contact the PlayGround Box Office at boxoffice@playground-sf.org The online "lobby" for streaming events will open 15 minutes prior to start of performance.